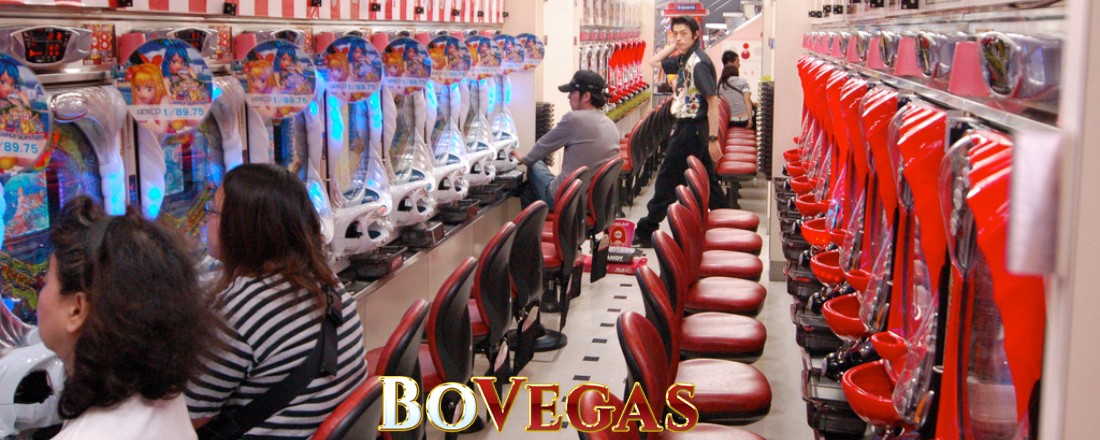 It`s Pachinko time, everybody! Do you know what that means? If not, then it seems you've never been to Japan; because if you'd been to Japan, Pachinko is a game you would undoubtedly be familiar with! This is a colorful and a bit noisy Japanese gambling game which is widely popular among the Japanese; but we`re pretty sure the rest of the world deserves to play it, so they can have some fun while also winning good money at the same time!
This game is a little bit of everything. It's safe to say it's an utterly crazy combo of slots, a vertical pinball machine, a karaoke machine, and arcade games. It's flashy, bright, loud, and very entertaining. Just like the glory days of the slot machines, pachinko had a mechanism consisting of drums; and now, they`re all electronic as well! However, this game isn't accessible on the World Wide Web; and sad to say, it doesn't seem that it's going to happen any time soon. Why? Ooh, this is a fascinating topic. Let's find out!
The Japanese Government Isn't Too Thrilled About It
Japan is a country full of wonders, mysteries, and fun time opportunities. It's a somewhat controversial place, which has a very vague line between "a forbidden fruit" and "let's get this party started!" For example, the Land of the Rising Sun is very far from being prudish, and people are very open-minded when it comes to various erotic shenanigans. But at the same time, gambling used to be illegal in Japan, due to the shattering impact of gambling on society. But how about Pachinko then? Well, the government tolerated it for three reasons.
First, entrepreneurs found a loophole, where they could present Pachinko not so much as part of a gambling industry, but as a fun arcade game, just like all the other ones kids are playing all over the globe. The trick here is that you don't actually win money directly; you earn these cute little steel balls that you can exchange for cash at specialized facilities. Secondly, this business pays taxes, and it is a huge part of the Japanese economy. 2015 was a fairly productive year in this sphere because Pachinko earned more money than Macau, Singapore, and Las Vegas combined! Thirdly, people undeniably love this game; and  one way or another, they're going to keep on playing it; whether legally or illegally! As it's an alternative Japanese gambling phenomenon, Pachinko has become quite well-liked among the locals. However, the government is striving hard to provide all tourists with an image of a perfect Japanese society, and activities like gambling often give off an air of disrepute.
Government Vs People. A Gambling Story
Appropriately, Las Vegas also has quite a reputation; it has the nickname Sin City for a reason, duh! But it's not necessarily a perfectly image of corruption, either. Everybody goes to Vegas to have fun, relax, and spend some extra cash. Besides, according to psychological research, people are spending time and money at gambling facilities not because they`re hoping to win big, but mainly because they are looking for a place where they`ll be able to spend money in a luxurious and chic environment. It's really as simple as that!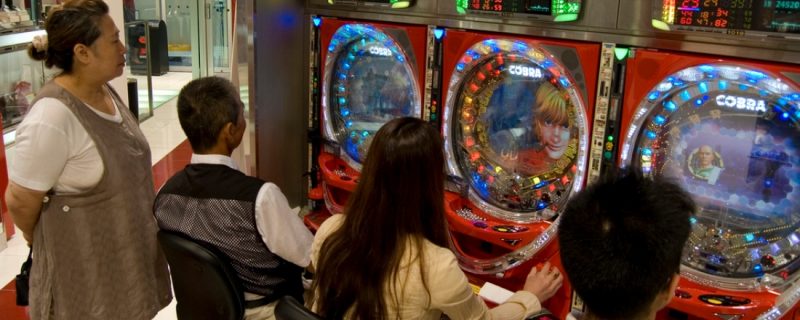 It is of course true that Japanese people are super excited about the Pachinko game. However, they sometimes aren't that good at self-control; and studies report that this can be due to certain mental peculiarities. In the Western world, for example, people tend to be less driven by the adrenaline they get from gambling, and so this activity doesn't turn into an addiction. If we take a look at the European gambling world, psychologists and sociologists report that around 1-5% of gamblers have an addictive predisposition; or as they call it, "intense gambling habits." However, history does display some pretty wild examples of Pachinko addiction in Japan. In the 1990s, there were situations when kids were left suffocating in the car for hours, while their mothers were off playing Pachinko. However, online casinos are an entirely different story, and this fun game has a lot to offer for players from a Western culture. Furthermore, it's often reminiscent of the standard slots we have all come to expect.
We`re So in Need of These!
The traditional atmosphere of a Western-style casino has existed for quite some time. It's all elaborate and shiny, but it's pretty clear that we do need something new; so Pachinko does sound like an excellent opportunity to diversify and shake up that classy realm a bit. It's not exactly slots, but it's somewhat similar! So American, European, and Australian audiences are all going to find it fairly familiar. This Japanese game has so much more to offer you than just hitting a spin button and hoping it's your lucky day! You can develop your own strategy, and play according to an individual plan. This helps make it more challenging; and, so it's more fun and exciting as well!
Also, players often get to win big all at once. We're going to assume you already know there are both regular slots and jackpot progressives? And it very often just so happens that the experienced players want to get more of a thrill, and the old games just don't satisfy their needs anymore. So, Pachinko has to be the best option here! And on top of that, it's very colorful and entertaining. Also, do you know what is so indisputably unique about this Asian treasure? It has various interesting topics and melodic soundtracks that help to set the mood of the game.
But about what about your winnings? After all, the prize money is a relatively important aspect of any gambling game. Pachinko offers something that's somewhere in between regular slot bets and jackpots. You can win up to 200,000 yen (around $1,800) at once! At the same time, there is always the risk of losing 10,000 yen (around $90) in one go. However, such odds are only going to get you even more pumped up, right?
You're so Eager to Learn the Rules, Aren't You?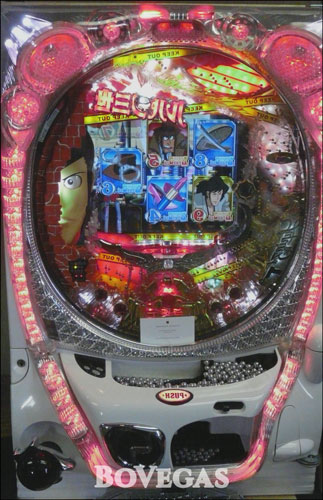 As we've already mentioned (like a dozen times now, sorry about that!) there is no online version of Pachinko. So, you're going to have to play the old-style way. You come to a parlor, sit next to that shiny screen and… what happens next, actually? Look at the top left corner for the lending device. Put some money in there. Bills only. Now, check the bottom right corner of the machine for the 'Borrow balls' option and push that button. Now you finally have balls! No pun intended. Kind of.
You have some money to play with. Great! But don't expect it to be as simple as slots. Being relaxed is not what this marvelous game is all about. You'll see a handle (in different machines you can find it in different corners) and you need to turn it clockwise. You have to calculate the strength of that turning action. Don't worry about that; because after a few moves, you'll feel well enough adjusted to the game. But where should you aim? Well, this is where pachinko comes to finally resemble pinball in all its glory. Shoot to the upper left side of the screen and you'll do no wrong.
When the ball comes closer to the hole at the bottom (just like it does in the more conventional pinball game that you play on your Windows computer all during those dark minutes when the Internet is down). The numbers of the display start shuffling. When you've got the same three numbers in line, you hit the Jackpot! And that's the moment of a gambling ecstasy right there.
Let's assume you're one lucky devil, and you have indeed managed to hit a few jackpots. Yep! That's right! With pachinko, this really is more than just a possibility. So, it may just so happen that your whole tray will be filled up with those tiny, shiny balls of steel. Naturally, you'd like to grab another tray because nobody wants to spend an evening crawling around pachinko facility looking in every corner and under every machine to collect all your winnings which fell out from a full tray. But don't you ever try to change those boxes yourself! You can't get distracted in the middle of the game; so just call a member of staff to help you out!
B**ch Better Have My Money!
So, you're done with the fun for today. What do you do next? You can't just get up and leave the pachinko machine. If you still have some money on your balance (good for you, tiger!) you should press the card/coin return button ('henkyaku button.') You'll have to eject your IC-card from the machine, because that's the card that is holding your balance. IC is an electronic card used in Japan exclusively and it's being used as a 'smart card' that you use to pay for public transport and some other services. We highly recommend you not to leave the IC-card in the machine, even when you go to a bathroom for a couple of minutes. It's your money, after all! What if somebody wins a jackpot playing with your card?
There is one more obstacle that you may face on your gambling ninja path. Pachinko facilities aren't allowed to pay out your winnings with money. You can of course exchange those cute silver balls for goods; like chocolate, candy and stuff like that. But what if you aren't that into sweets or you're getting your body into 'beach-ready' shape? Get out from the pachinko casino and look for a little booth which will exchange your trophy for some well-deserved cash. But if you still want to get some goods (perhaps, you had to buy groceries on your way home anyway?), please remember that the exchange receipts are only valid on their day of issue.
So How to Win Big Playing Pachinko?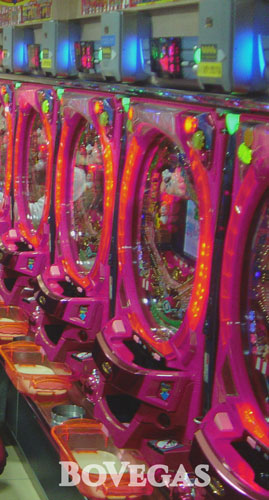 Despite the "kindness" of Japanese gambling machines, Japan has certain rules and regulations, as described by the Security Electronics and Communication Technology Association. Gambling laws in Japan are now heavily influencing pachinko too, by regulating the rate of wins; the latter does follow a particular pattern. But if you want to discover a technique for winning pachinko, please bear in mind that pachinko winnings tend to be small; however, the game does do us a good turn, by providing us with some bonus modes. There is a so-called "Big Bonus" mode (about 400-711 balls), as well as the "Standard Bonus" mode (110 balls). During these rounds, it may seem that the device almost continuously gives out the balls until the end of the bonus mode. Meanwhile, a player is entertained by some special videos on the display, along with some exciting and energetic music.
One interesting thing here is that Japanese slot machines do feature three unique modes that you will not find anywhere else; and these machines will do you a favor if you are interested in how to win at pachinko. When the "bank" runs out of the balls during the bonus mode, and the balls stop falling, the "reservation mode" is activated; i.e., the winnings begin to come in, as balls contributed by the player. In this case, the machine continues to show congratulatory pictures, but it does not allow us to play any further. When the pachinko machine is full again, the player sees the balls again, along with a significant increase in the funds deposited.
After that, the machine offers the player a chance to play under the best conditions possible, and it even allows them to win a decent amount of balls several times. But then, after this, it sets some almost unrealistic conditions for winning. Indeed, the Japanese slot machines are easy to beat; but only if you do not fall for the psychological tricks they offer! So, this is the best pachinko tip, to help you make sure you end up with a prize when your game is finally over!
The wrong pachinko strategy is to think that you can rely on "frozen" balls. When the gaming machine is "kind," it allows the player to win from 5,000 to 10,000 balls, but it puts them on the player's account instead of giving them to the winner. After this, the so-called "ceiling" comes into effect. The "ceiling" is a figure that regulates the maximum intervals between bonus modes. If translated into numbers, the machine knows that it only has the right to issue only 10 bonus modes every 1,500 games; and it gives out all of these consecutively. For instance, you play 1490 games; and then the machine, or so it seems, behaves with an unparalleled generosity. It does not have time to give out the balls; it just places the winnings on an account. You agree to the rules of the machine, after it stops giving out the prize and allows you to continue playing, and you press the button. That's it! You fell into a psychological trap! And then, bang! You face 1490 sad rounds. So, you can indeed make real money playing pachinko; but you need to know which gaming machines are able to help you win big!
In short, you can win the pachinko jackpot, but you do have to sit at the machine after any previous player who has just left the club; someone who has actually played for a pretty decent length of time themselves. And although since 2006, Japanese slot machines have been obliged to give 3000 balls, this does not solve the problem of psychological binding when the "digital" gain in the bonus mode reaches 10,000+ balls.
Mission: Impossible – Pachinko Overseas
An impressive number of Japanese pop culture phenomena have made their way to the daily life of Western culture nations. Karaoke, anime, sushi are forever in our hearts, but how about such craze as Pachinko gambling? It's impossible to find such parlor anywhere in the world apart from Japan. So, now you've got yet another reason to book a trip to the Land of the Rising Sun! Especially when you consider that foreigners are more than welcome at pachinko facilities. They are supposed to follow the same rules as Japanese people do, meaning that they can't receive the winnings in the money equivalent directly. So, if you are a foreigner, you have two options here: you can either spend pachinko balls on souvenirs from Japan, or sneakily exchange them for cash.
We still haven't figured out why Pachinko doesn't go overseas to conquer the whole planet with its shiny balls? The main reason is that the owners of these facilities don't want to take the risk of setting up business in another country. They've come to the conclusion that the American and European markets are filled with traditional casinos, showcasing the most popular gambling games (slots, in particular); and so, they just won't be interested in pachinko, which is a far more complicated game than an average slot machine.
There is one more possible reason though; albeit a rather speculative one, which seems pretty difficult to prove one way or another.  It is commonly believed that the leading operators of gambling in Korea own pachinko parlors, because the Japanese don't want to be associated with gambling; and that those Korean owners have strong ties with the North Korean regime! But… shhh,  that's a whole other story!
You Can Spot It Somewhere. Kind of…
If you Google Pachinko while trying to find an online version of this game, then you will at least have some success. There is a game that has the same name. Designers of this copycat game have actively exploited the Japanese theme and incorporated various aspects of this arcade game; but ultimately, it's still a slot game, and they are still missing a great deal of the beautiful intricacy and complexity of the original Japanese version. It's still a real find for both your brain and wallet, though. Get rich, and get smarter too! Is that really too much to ask?
---